A-mazing Results
10/08/2021

Posted by:

c.royal

Category:

News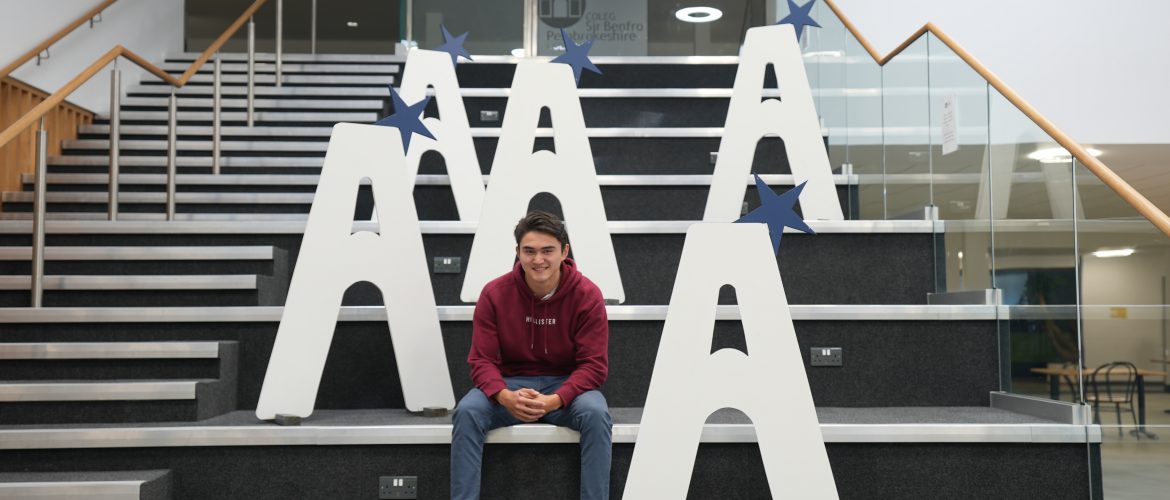 Pembrokeshire College A-level and Extended Diploma students are celebrating after receiving their results and securing places at some of the UK's most prestigious universities.
Despite another year of interrupted studies due to the global pandemic, Pembrokeshire College students have achieved an impressive set of results; and with restrictions lifting their futures are looking bright as they now plan to progress to further study or directly into employment.
A breakdown of results shows 41% of A-level students achieved A*-A grades and 85% achieved A*-C grades. With growing numbers of students choosing to study their A-levels at the College, the College saw 354 results at A*-C grade out of a total of 418 entries.
Meanwhile, Extended Diploma students continued to raise the bar with 46% achieving Distinction and Distinction* grades, the equivalent of A*-A at A-level.
298 A-level and Extended Diploma students are now planning on progressing to university to further their studies.
This year sees two A-level students securing places to study at the University of Cambridge. Imogen Grimes (A*A*AA) will be reading History of Art, and Samuel Rummery will be reading Engineering after securing A*A* and A* in EPQ alongside three A* grades last year. With A*A*A*A*, Cian Phillips is taking a gap year before planning to progress to Cambridge to read Engineering.
Other high achieving A-level students include: Eryn Coombs (A*A*A*), now heading to Cardiff University to read Optometry; Emily Griffiths (A*A*A*A) heading to the University of Southampton to read Aerospace Engineering; Ieuan Davies (A*A*A* and an A in EPQ) heading to the University of Leeds to read Nuclear and Chemical Engineering; Luke Humphrey (AAAA) heading to Imperial College London to read Medical Biosciences; and Megan Owens (A*A*AA and an A* in EPQ) who is heading to Newcastle University to read Medicine. Other learners achieving multiple A* grades include Sophie Barfoot, Kyle Jennings, Tegan Kuhl, Lucie Mathias, Amy Thompson, Ceri Watts, Eliza Wolfe, Brian Chan, Vanessa Cheung and Finlay Ryder.
We would also like to congratulate our learners who have made exceptional progress during their A-level studies, including Pollyanna Rees (A*AA) who is heading to Cardiff University to read Law and Damien Howbrook-West (AAAB) who is heading to Aberystwyth University with a scholarship to read International Relations.
The College would also like to offer its warmest congratulations to all its Federation students. In particular we would like to extend our congratulations to Izzy-May Solomon of Milford Haven School, who progresses to read philosophy at Cambridge and to Declan Connellan of Ysgol Harri Tudur, who has secured an unconditional place at the Royal Welsh College of Music and Drama. This is the second consecutive conservatoire place secured by students studying A-level music at the College.
This year has also seen BTEC National Diploma students excelling once again with many students achieving Distinction grades and taking up places at universities across the UK to study a range of subjects including Veterinary Physiotherapy, Architecture, Hair, Make-up and Prosthetics for Production, Zoology, Aerospace Engineering and Neuroscience.
Heading to Cardiff University with three Distinction star grades are Health Science students Annie Stevens to study Radiology and Charlotte Ault to study Midwifery, alongside Applied Science student Osian Feild to study Chemistry.
University destinations for Pembrokeshire College students span the length and breadth of the UK and include: Bristol, Exeter, Aberystwyth, Durham and Edinburgh.
After receiving this year's results, Principal Dr Barry Walters commented: "After another year of lockdowns and remote learning, the achievements of learners completing their programmes of study this year should not be underplayed.
"Whilst formal examinations were cancelled for the second year running, these were replaced by a rigorous set of assessments and the results published today are testament to the hard work of our learners.
"We are delighted to see two students secure their offer of a place at the University of Cambridge while many others have taken up places at other high-profile Russell Group and Sutton Trust Institutions.
"To all our learners now progressing to universities across the UK, or going straight into employment, we wish them all the best of luck and hope that they will keep in touch as they progress through their studies and their future careers."
For further information on the courses available at the College contact Admissions on pembrokeshire.ac.uk/courses