Pembrokeshire College Campus
The College main campus is made up of five areas with a sixth in the process of being built. We also have two off-site buildings for our animal care and management students. These areas are:
The Main Campus – the heart of the College, where you will find most academic and support staff, the refectory, restaurants and coffee shops.
Campus 6 – this extension to the main building has science laboratories, modern classrooms, a large self-study area, a 590m2 sports hall, a cardio fitness suite and ultra-modern hair and beauty salons as well as a coffee shop. Featuring the latest technology and innovative teaching methods giving students a first-class learning experience.
Innovation Centre – this state-of-the-art facility for design, engineering, media, photography, construction and music. Specialist resources combined with highly skilled staff provide a wide range of further and higher education in subjects that will be crucial for the development of a competitive high-skill economy.
Construction Centre – the Construction Technology Centre has created an excellent training environment for school leavers, trades people and professionals wanting to improve their skills and qualifications. With modern equipment, large workshops and experienced lecturers, the College is the well placed for those looking to learn a trade.
Energy Centre – this purpose built Energy Centre provides gas, oil and water training, accredited assessment and live renewables installation and servicing facilities. Courses are run on-demand throughout the year.
Engineering Building – under construction, due to open ??? it will house new welding and fabrication workshops and ???.
Withybush Animal Unit –
Folly Farm Animal Unit –
The following services are available to all students and to the local community.
Study Centre – provides students with a large library collection and delivers access to e-books, e-journals and other online learning resources. The Library Catalogue can be used to search for learning resources and to access e-resources including e-books and e-journals.
Hair and Beauty Salons – our industry standard salons offer a range of services for students, staff and members of the public to keep them looking and feeling good at heavily discounted prices. Treatments are carried out by students either learning or updating their hairdressing, beauty therapy or complementary skills, under the close supervision of professionally qualified lecturers.
Restaurant – the Restaurant, Bistro and Coffee Shop are run by catering and hospitality students and are open during term time to staff, students and the general public. Serving an assorted menu of reasonably priced, quality food and with themed events offered throughout the year.
Fitness Suite – The modern sports facilities at Pembrokeshire College are open to staff, students and members of the public.
Starbucks – open to the public, the College is home to the first Starbucks in Pembrokeshire serving a delicious range of hot and cold drinks as well as light snacks.
Bright Start Day Nursery – offers a lively, safe and caring environment for pre-school children aged from 0 to 7 years.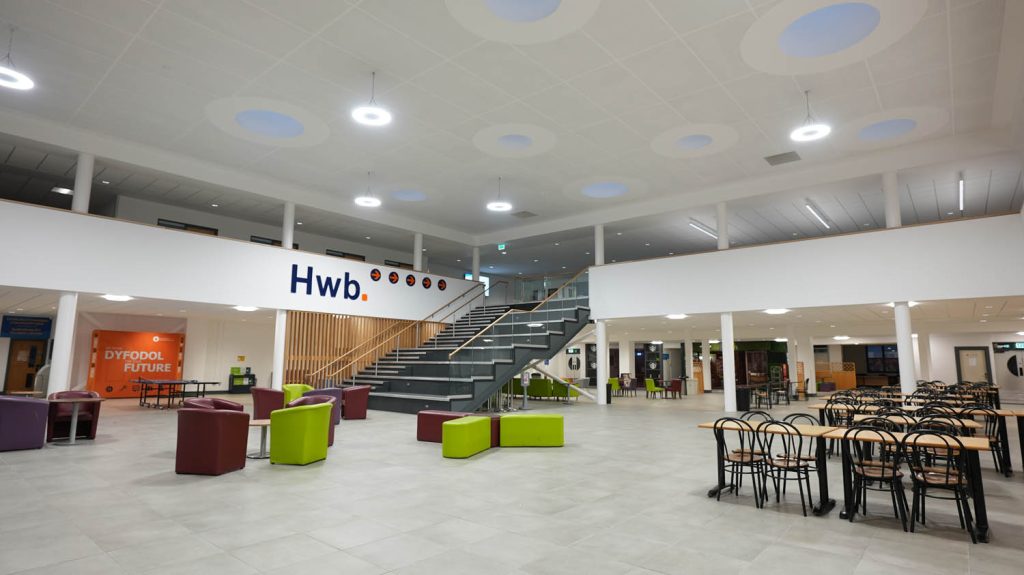 All students receive additional guidance, support and help from our team of experienced international office staff alongside induction activities that are designed to help settle you into college life.
Free Health Service
During College induction, the international office will help you to register with a doctor. If you are on a full-time course, any NHS medical consultation or treatment that you may require during your studies will be provided free of charge. As a student of Pembrokeshire College you will also receive:
Welcome and orientation programme on arrival
Diagnostic placement test on arrival
24 hour emergency helpline
Welfare and Accommodation Officer
Advice, Guidance and Welfare Support Careers service
UCAS (University & Colleges Application Service), progression and initial course guidance (specialist university support for medical school applications)
Full access to our extensive computer centre and excellent Study Centre
Social programme
Regular academic progress reports and contact with your parents
Access to the College counsellor, nurse and interdenominational chaplain as well as learner and pastoral coaches who are on-hand should you have any queries
Safeguarding
The College takes the safeguarding of all its learners seriously and has a Designated Senior Lead for Safeguarding and Wellbeing. All reports of abuse will be investigated in accordance with the College's Safeguarding Policy. Should you have any reason to report an incident, please contact your tutor, international officer or any member of staff who will report it. Alternatively, contact one of the safeguarding officers who can be found in the Hwb. Key Contact: Maxine Thomas, Designated Senior Lead for Safeguarding and Wellbeing 01437 753 100 |
ma.thomas@pembrokeshire.ac.uk
During your first week at Pembrokeshire College you will take part in an induction programme that includes:
enrolment to your course
opening a UK bank account
registering with the local doctor's surgery
You will be provided with a comprehensive induction folder containing useful information which you can refer to during your time at Pembrokeshire College.
As an international student you will have the opportunity to meet up with your tutor on a regular basis to discuss your progress and any problems you may have. Your tutor will also help you to track your progress and keep your parent/guardian/sponsor informed of your developments.
The International Office is here to help you with anything you need during your stay. If you have any concerns or problems, please contact someone in the International Office who will be happy to help you.
As part of our Boarding plus Programme, all students are provided with homestay accommodation
The international office at Pembrokeshire College works with a network of carefully selected local families who provide accommodation to international students in their family homes. Students living in homestay accommodation are well looked after and are treated as one of the family; it also gives students a wonderful opportunity to improve their English through total immersion in the language.
Our homestay providers are chosen from local people living in the Pembrokeshire area; some are very close to the College, others are further away but are serviced with buses bringing students to the College and returning them home at the end of the day.
Our homestay providers are very experienced in hosting international students and have a genuine interest in the development and experience of the student. They have current DBS certificates in place, ensuring that the international students are staying with individuals who have undergone a recognised safeguarding process and who have undertaken safeguarding training at the College.
Students have input into the homestay selection process; they can decide specifics such as not living with families with pets or wanting to live near to the beach. Homestay accommodation is available during term times, Easter and half term vacations. This includes breakfast and dinner 7 days a week, as well as lunch on Saturday and Sunday. Lunch is provided during the week at the College's fine dining restaurant. Free internet is available, as well as laundry facilities and your own bedroom. We only place one international student with each homestay provider to ensure that you are able to practise your English language skills as much as possible.
For students who are under the age of 18 you will be given a curfew of 10pm and will be expected to make your homestay provider aware of where you will be when you are not in College. During induction you will be made aware of laws in the UK relating to under 18's and will be given advice and guidance on how to remain safe. You will also receive regular contact from the International Office who will check that you have settled into both College life and your homestay provider.
Some families take their students away on weekends to visit relatives and other cities in the UK; they have themed cooking evenings and generally enjoy participating in the rich cultural experience that is to be had by staying with a host family.