Open Evening
Find out more about your choices for September 2019
30 April 2019, 5pm – 7pm
Click HERE to Register Online Now!
UPCOMING EVENTS
Graduation
Friday 5 July
(St Davids Cathedral)
A-level Results Day
Thursday 15 August
Extended Opening
Thursday 22 August
Friday 23 August
Saturday 24 August
UPCOMING EVENTS
County Show
13 – 15 August
(Withybush Showground)
GCSE Results Day
Thursday 22 August
NEWS & UPDATES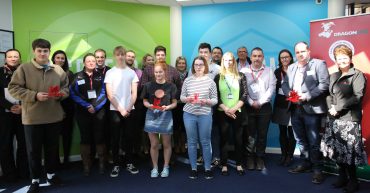 Learners network with local employers
Learners studying Engineering and Construction related courses at Pembrokeshire College had the opportunity to meet with local employers last week thanks to the College's Employment Bureau and Dragon LNG. Sponsored by Dragon LNG, learners met face-to-face with representatives from local employers over lunch in the student-run restaurant. Employers including Dragon LNG, BTG International, Bullock Consulting, […]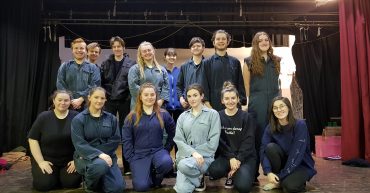 Performing Arts students hit the road with the 'Crime of Your Life'
Pembrokeshire College year one Performing Arts students have recently been performing The Crime of Your Life at secondary schools across the county as part of a two-week crime prevention campaign with Dyfed Powys Police.  The Crime of Your Life production is a gritty tale that follows Sebrina Spencer, a moody, stubborn teen who goes down […]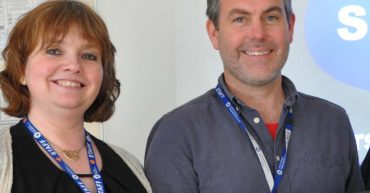 Bendigedig as Ben wins National Welsh Award
As part of the Work Welsh scheme for further education colleges, Pembrokeshire College e-Learning Designer, Ben Lloyd was recently presented with a national award for learning Welsh in the workplace. Nominated by the College's Work Welsh Language Tutors for his remarkable progress during the scheme, Ben was presented with his award during a Sgiliaith training […]
LEARNING AT PEMBROKESHIRE COLLEGE
Avg Students Enrolled per year
Qualifications Gained 2015/16

Adam Thomas
I studied the Level 3 Extended Diploma in Computers and Design (Interactive Media) course at the college back in 2011.
The college gave me the opportunity to progress to University allowing me to specialise in the creative area of 3D computer animation.
Amelia Spencer
Performing arts facilities are amazing!
Since being a student there a few years ago now, I have managed to accomplish many things not only from my qualifications but the many life skills and confidence the course gave me.
Got my dream job now!
Big thanks to the college.

Georgia Geary
There is a great mix of people at the College which I really miss and the lecturers have been really fantastic – I would definitely recommend studying at the College.
Abigail Buxton
College bridges the gap between school and going on to university.
It feels like we are on an equal level with the lecturers at College as we are on first name terms.
Ben Pepper
I was drawn to the College because of the great learning facilities and resources available, with the Learning Resource Centre as the highlight. Other reasons included the availability of Further Maths as a timetabled subject for both years of A-level, the STEM scholarship for high-achieving students and the opportunity to study with new people.

Sunny Yinge
" I have received excellent teaching and support from the College. I hope to study Biochemistry at Edinburgh this September. My host family has also been great, I will definitely be keeping in touch." Sunny Yige, from Beijing.