Sustainability on the Menu with Deri Reed
26/10/2020

Posted by:

f.gray

Category:

News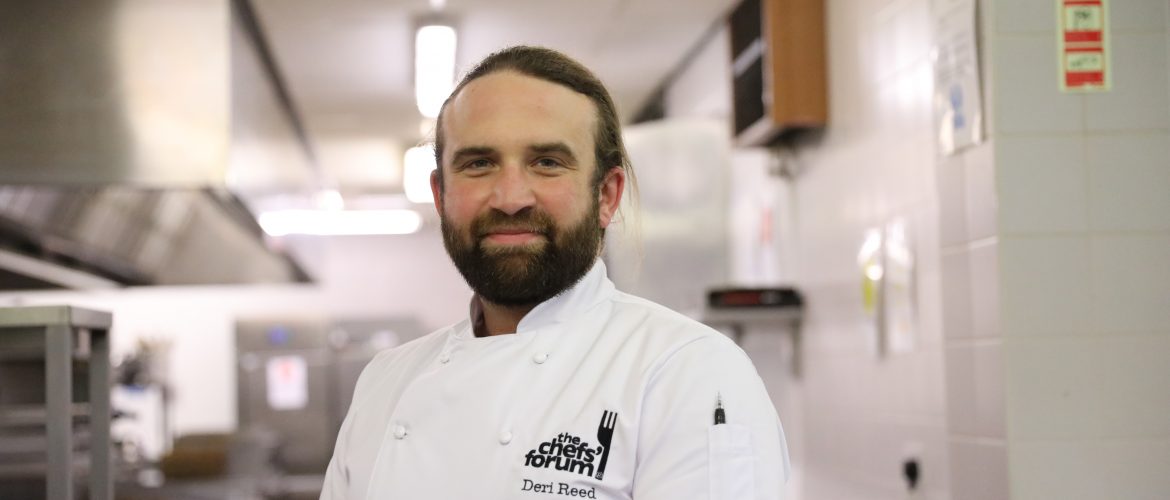 Last week Pembrokeshire College hospitality students benefitted from a pastry masterclass with Deri Reed of The Warren in Wales. One of the champions of sustainability in restaurants, and winner of last year's prestigious Chef of the Year Award, organised by the Sustainable Restaurant Association, Deri is passionate about sustainability and building awareness amongst our future hospitality professionals who, he hopes, will carry on what he has started.
The masterclass was made possible thanks to Pembrokeshire College's partnership with The Chefs' Forum which runs five academies in colleges nationally. The Chefs' Forum Academy facilitates weekly masterclasses with high profile industry employers aimed at enriching the learning experience through showcasing new recipes at the same time as experienced chefs pass on their knowledge and experience of the industry. This all counts towards work experience whilst Covid-19 restrictions remain in place.
On his website, Deri states: "I believe we all have a responsibility to protect our environment," and this is something that came through in his masterclass. Working with students to make choux pastry from scratch, creating delicious chocolate eclairs, following the masterclass Deri commented: "Chefs have such influence to inspire and change trends so it's wonderful to be able to do that amongst the potential chefs of tomorrow. I have really enjoyed working with the students."
Sustainability is an important issue with the whole food chain from suppliers right down to chefs and back to farmers and it is vital that we emphasise the importance of this with regards to sourcing suppliers and provenance to the next generation of chefs.
Deri prides himself on curating only the most sustainable suppliers including Blaencamel Organic Farm, Watson & Pratts, Rhosyn farm, Hazelwell Organic Beef Farm, Cwm Farm Dairy, Calon Wen and Suma Wholefoods.
The Sustainable Restaurant Association said of Reed: "Deri opened The Warren with the mission to leave the environment and customers' health in a better place than if it had never opened. He created a restaurant built by the community, starting with a £20,000 crowdfunding campaign, and for the community, realising his dream of running a restaurant showcasing quality, mostly organic, Welsh produce at affordable prices. In an area where meat is a mainstay, Deri has profited from marketing vegetarian and vegan options. Deri's dream has been achieved, and with it, the local farmers and diners have benefitted hugely."
Wendy Weber, Head of Faculty at Pembrokeshire College was delighted with Deri's session and commented: "The students really enjoyed the session with Deri. Pastry is so popular, so it was great to be able to invite a professional chef and local employer into the College to give a socially distanced masterclass. Tightened restrictions mean that we now have to move to a virtual session for the next week, but The Chefs' Forum have amassed a fantastic library of learning resources for us to continue our curriculum enrichment sessions via video link with excellent recipe cards from the chefs to accompany."
The Chefs' Forum will continue to work with colleges through this difficult period, affording them access to some of the most exclusive operations in the UK while restrictions are in place. The chefs are doing a fantastic job of supporting the colleges in cooking recipes and producing films to accompany recipe cards and connecting with the students via Microsoft Teams for a live Q&A session.