Welsh Baccalaureate Qualification (WBQ)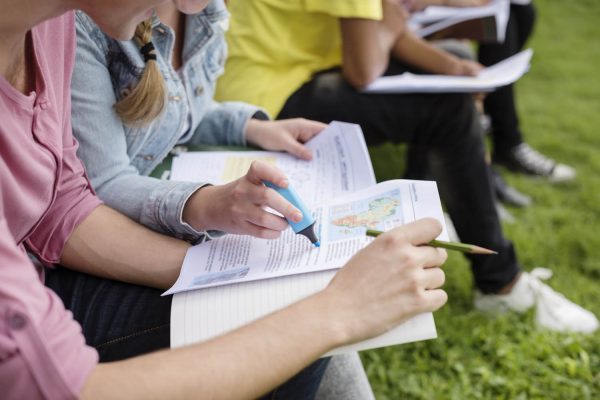 Welsh Baccalaureate Qualification (WBQ)
WJEC Level 3 Advanced Welsh Baccalaureate | WJEC Level 3 Advanced Skills Challenge Certificate
This course aims to enable learners to develop and demonstrate an understanding and proficiency in essential and employability skills. The emphasis is on applied and purposeful learning and to provide opportunities for assessment in a range of real-life context through three Challenge Briefs and an Individual Project.
Is this course right for me?
The Advanced Welsh Baccalaureate is normally studied alongside at least 3 A-levels or an equivalent Level 3 qualification example an Extended Diploma. It is made up of the Advanced Skills Challenge Certificate and supporting qualifications.
It is equivalent to one A-level and graded A* – E. All Welsh Universities will include this qualification in their offers. Most other universities also accept the Skills Challenge Certificate. Even the most competitive courses such as Medicine, Dentistry and Veterinary Science will accept it as an alternative to an A-level grade.
Sports Academy: While on this course you may be able to join our Sports Academy, if you have a talent for sport, find out what we offer on our Sports Academy page.
---
What are the entry requirements?
No formal entry requirements
Entry is subject to attending a course information session or informal interview
---
Current student – what are the entry requirements?
Please read the full entry requirements above as you will usually need to meet those as well
Advanced Skills Challenge Certificate
Individual Project – conducting research and writing an academic dissertation or report up to 5,000 words (50%)
Enterprise and Employability Challenge – Careers plan, innovation proposal and self-reflection (20%)
Global Citizenship Challenge – to look at a personal standpoint on a global issue and take part in a conference identifying solutions (15%)
Community Challenge – to plan, organise and participate in a community activity for 30 hours (15%)
The course will also support your development of a range of essential and employability skills including:
Communication
Numeracy
Digital Literacy
Planning and Organisation
Creativity and Innovation
Critical Thinking and Problem Solving
Personal Effectiveness
Further information can be found on the WJEC website in the Advanced Skills Handbook here.
The Supporting Qualifications include:
two mandatory GCSEs of English Language/Welsh Language and Mathematics/Numeracy at grades A*-C.
two A-levels grade A*- E, or equivalent Level 3 qualifications totalling at least 600 Guided Learning Hours (GLH)
---
Can I do this course in Welsh?
Learners are able to complete either the full qualification or certain units or elements through the medium of Welsh/bilingually. Visit our Welsh Language in the College page to find out what else is available to you.
---
Continuous assessment during the course
Portfolio of evidence
Completion of a final major project
---
If you are thinking about studying at degree level following this course please visit the university websites or UCAS (University Central Admissions Service) www.ucas.com to check any entry requirements.
---
Do I need to bring/buy any equipment?
No additional equipment required
---
Are there any additional costs?
No tuition fee
We are waiving the Administration Fee for the academic year 2023/24
---
Disclaimer:
The College takes all reasonable steps to provide the educational services and courses as described above. Details are correct at the time of editing but may be subject to change without prior notice. Courses will not run if student numbers are insufficient. The College has the right to refuse individuals entry to courses in certain circumstances. Prospective students may be advised of more suitable alternatives, if appropriate. The entry requirements stated are those that are normally required to undertake the programme of study.