Help & Support
If you are finding things difficult, it is important to know that you do not have to struggle alone. We can help you find support both on campus and off.
Sometimes all you need is to talk about your problems and feelings with someone who will listen. Your college safeguarding team offers quick and confidential appointments. 07813546695 or safe@pembrokeshire.ac.uk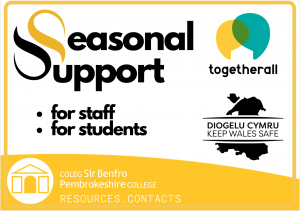 If you feel that you may benefit from mental health support over the holiday season, why not consider registering now? or any time that works for you – registration is 24/7
Togertherall is an award-winning mental health service available at togetherall.com. It offers 24/7 support, with trained clinicians online at all times, as well as a range of helpful tools and resources. The service also offers anonymous peer and community support, moderated and facilitated by trained clinicians.
Their online programmes are evidence-based courses, designed to help people manage a variety of mental health difficulties, and improve their health and wellbeing – all at a pace which suits them. There are also courses available which support members with their self-development, such as assertiveness training and managing procrastination.
Register – Get started by completing the registration form with a few basic details. You will be sent an email to verify your account.
Activate – Click on the button within our activation email to confirm your account.
Participate – They'll ask a few questions about your current situation & take you on a tour of Togetherall. Welcome to the community!
Statement 8 June 2020 –  The news events of the past few days and weeks which show the current political and social climate will have been hard-hitting and deeply emotional for many. We hold equality as one of the main principles of this College. We would like to reiterate that racism of any kind is not, and will not be tolerated in our College. As a learning institution we continually strive to educate ourselves and our students on matters such as racism and discrimination. Our wellbeing services are available to all and should any staff or students be affected by recent events please contact the safeguarding and wellbeing team at safe@pembrokeshire.ac.uk