Electrical and Electronic Engineering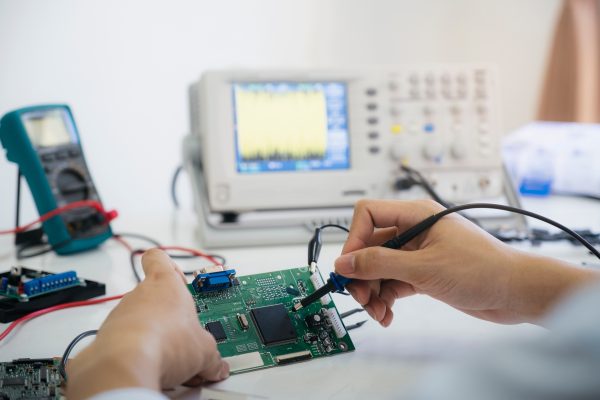 Electrical and Electronic Engineering
BTEC Nationals Level 3 Extended Diploma in Electrical and Electronic Engineering
If you are interested in working in the areas of electronic circuit construction and testing, electrical engineering or control and instrumentation then this may be the course for you.
Is this course right for me?
As part of the course you will acquire knowledge of how to use a range of electronics equipment including digital meters and oscilloscopes as well as using computers and specialist software to design circuit boards.
You will be expected to work on technical problems individually and in groups, using a range of research methods to include reference books and the internet to find information.
To be successful on this course you will need to be able to work as part of a team, solve technical problems and have an awareness of health & safety issues.
Sports Academy: While on this course you may be able to join our Sports Academy, if you have a talent for sport, we would like to hear from you.
---
What are the entry requirements?
Five GCSEs at grade C or above (may include one relevant equivalent) to include English Language/First Language Welsh and Mathematics/Numeracy and Science
Each application is considered on individual merit
Entry is subject to an informal interview
---
Current student – what are the entry requirements?
Please read the full entry requirements above as you will usually need to meet those as well
Successful completion of current/relevant Level 2 programme with a merit grade or above and evidence of improvement from internal GCSE assessments or Skills, in addition to a successful decision from progression board meeting
---
Units to be studied include:
Engineering Principles
Delivery of Engineering Processes Safely as a Team
Engineering Product Design and Manufacture
Applied Commercial and Quality Principles in Engineering
Electronic Devices and Circuits
Electronic Printed Circuit Board Design and Manufacture
Programmable Logic Controllers
Microcontroller Systems for Engineers
A Specialist Engineering Project
Calculus to Solve Engineering Problems
Electrical Machines
Electrical Power Distribution and Transmission
Analogue Electronic Circuits
Electronic Measurement and Testing of Circuits
Digital and Analogue Electronic Systems
In addition to your main programme you will also study the WJEC Extended Project Qualification (EPQ), a Level 3 qualification which is graded like an AS level, and can provide additional UCAS points for university entry. It provides opportunities for learners to expand their knowledge, work independently and acquire new skills through a variety of activities which may include: guest speakers, workplace visits and practical experiences
You will also need to attend regular tutorials.
---
Can I do this course in Welsh?
Learners are able to complete either the full qualification or certain units or elements through the medium of Welsh/bilingually.
---
Continuous assessment during the course
Practical assessment during the course
Practical examination
Written examination
Completion of a final major project
---
This course can lead to numerous career opportunities including: Electronic/Electrical Engineer, Instrumentation Engineer, Renewables Engineer, Design Technician, Product Tester, Research Engineer, New Product Developer.
Following successful completion of this course learners could look to progress to a higher level course at the College, seek an appropriate Apprenticeship or go directly into employment.
---
Do I need to bring/buy any equipment?
Stationery - you will be told about any specific items before you start the course
A scientific calculator
You may be eligible for funding. Find out more on our student finance page
---
Are there any additional costs?
No tuition fee
We are waiving the Administration Fee for the academic year 2022/23
There is a annual workshop fee for this course (£20 - £60), payable before you start the course
You may be eligible for funding. Find out more on our student finance page
---
Disclaimer:
The College takes all reasonable steps to provide the educational services and courses as described above. Details are correct at the time of editing but may be subject to change without prior notice. Courses will not run if student numbers are insufficient. The College has the right to refuse individuals entry to courses in certain circumstances. Prospective students may be advised of more suitable alternatives, if appropriate. The entry requirements stated are those that are normally required to undertake the programme of study.