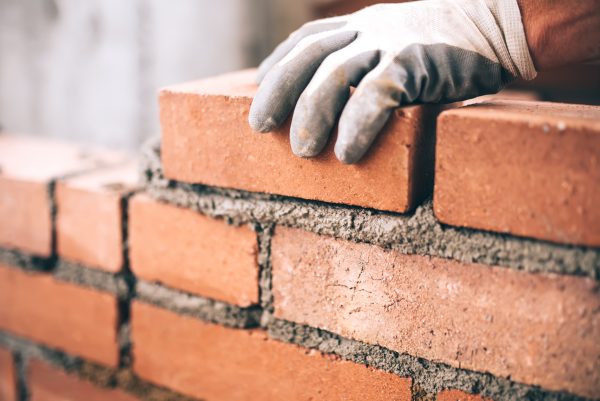 If you are interested in a "hands on" career in the Construction industry then this is the programme for you. Learn the principles, knowledge and practical skills to allow you to understand the trade specific terminology used within brick, block and stone occupations.
If not taken as an apprenticeship – cost:
Is this course right for me?
People of any age can undertake an apprenticeship in Bricklaying. Access is subject to interview. Apprenticeships in Bricklaying comprise of:
College based training one day per week
An NVQ qualification which is assessed in the workplace
Literacy, Numeracy and Digital Literacy Qualifications unless you are exempt – Essential Skills Qualifications at Level 1 are accepted as alternatives for GCSEs
If you have not completed a "Foundation" or "Core" in Construction and Building Services, you will need to undertake a Level 2 "Core in Construction and Building Services" as part of this Apprenticeship.
To apply for an apprenticeship, you must have an employer willing to employ you for the duration of your apprenticeship. Level 3 Bricklaying qualifications cannot be achieved without employment in the trade.
Your employer will need to:
Be able to release you one day per week to attend college
Provide us with evidence of suitable insurance and evidence of your employment status
Be happy to discuss Health and Safety procedures with your assessor
Pay you the appropriate national minimum wage, including for college days
Delivery
In college: one day per week in college over 2-3 years depending on previous qualifications and industry experience.
In the workplace: Employers must agree to monthly planned assessor visits to observe you and to discuss your progress with a supervisor.
Learners must be at least 16 years of age and in employment for at least 16 hours per week. If you do not have an employer but would still like to join the one day per week training course, please visit the Adult Learner page – 'Brickwork – Core'.
Places on Apprenticeship Programmes are limited and subject to capacity. An offer of employment does not guarantee an immediate place in college.
Transport: Please note that for apprenticeship courses the college day would normally end anytime between 5pm – 7pm, depending on the apprenticeship pathway you are following. As college buses leave at 4pm, you will need to ensure you have your own transport in place.
Are you an Employer looking to take on an Apprentice?
Find out more about apprenticeships and the advantages for you as an Employer on our
Employer Training
page.
Disclaimer:
The College takes all reasonable steps to provide the educational services and courses as described above. Details are correct at the time of editing but may be subject to change without prior notice. Courses will not run if student numbers are insufficient. The College has the right to refuse individuals entry to courses in certain circumstances. Prospective students may be advised of more suitable alternatives, if appropriate. The entry requirements stated are those that are normally required to undertake the programme of study.