Music Performance and Production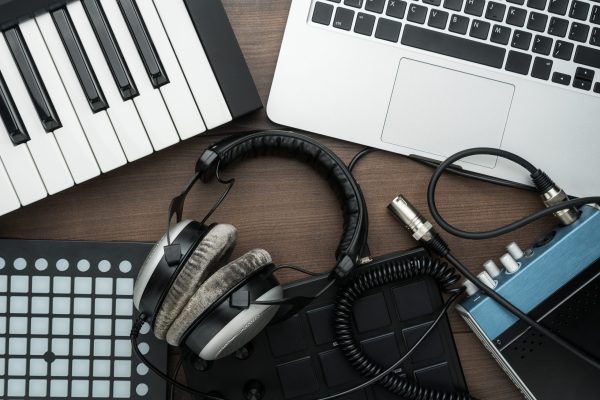 Music Performance and Production
UAL Level 3 Extended Diploma in Music Performance and Production
This course provides learners with a broad range of knowledge, skills and experience in working with a wide variety of technology to support entry into the music industry or further study at university.
Is this course right for me?
The course focuses on the techniques used to record and produce music, to stage music performance and also to develop as composers and performers of popular music. Learners will need to have previous experience of making music as instrumentalists or vocalists, or through the use of other technologies such as DJing or computer music production.
Sports Academy: While on this course you may be able to join our Sports Academy, if you have a talent for sport, we would like to hear from you.
---
What are the entry requirements?
Five GCSEs at grade C or above (may include one relevant equivalent) to include English Language/First Language Welsh and Mathematics/Numeracy at grade D or above
A portfolio/examples of work will be required for this course
Each application is considered on individual merit
Entry is subject to an informal interview
---
Current student – what are the entry requirements?
Please read the full entry requirements above as you will usually need to meet those as well
Successful completion of current/relevant Level 2 programme with a merit grade or above and evidence of improvement from internal GCSE assessments or Skills, in addition to a successful decision from progression board meeting
---
During this course you will develop your understanding of pop music through listening, playing and performance alongside research projects and class discussions. You learn studio and live sound techniques through hands-on experience and real recording and performance projects. Team work is essential in music making and you will do a lot of work in groups as well as an individual. The course is very practical and is centred on making and recording music, but you will also be assessed through written assignments and presentations.
The course consists of eight units that will develop your skills in:
Playing
Performing
Composing
Sequencing
Recording
Producing
Editing
Mixing
Mastering music
Most importantly of all, you will develop your ability to listen!
You will also:
Perform as a musician
Create new music as a composer or song writer
Record and produce your own and others music
Develop theoretical skills and musical and technical vocabulary
Use computers as tools for composition and recording
Organise and stage gigs and other music events
Develop your business skills through enterprise projects
Evaluate and analyse your work in order to improve your performance
Learners also complete the Welsh Baccalaureate Qualification and are required to develop their essential skills (communication/numeracy and digital skills). Learners will also attend a weekly group tutorial.
---
Can I do this course in Welsh?
Learners are able to complete either the full qualification or certain units or elements through the medium of Welsh/bilingually.
---
Continuous assessment during the course
---
This course can open doors to a number of different careers including:
Music business – The music industry is a multi billion pound business and behind all the glitz and glamour of the performing artist there are thousands of roles that support and promote the success of the performing artist. From administrative staff at a record label, music publisher, booking agent, tour manager, monitor engineer, stage manager, guitar technician, caterer, studio manager and so on – all these individuals will be driven by a passion for music and a desire to be part of something important, creative and in some cases historic.
Recording engineer – is responsible for selecting and operating all the equipment required to record and mix music in the recording studio. This role requires a high degree of technical understanding and good communication skills to get the best from the performer. Often works very closely with the record producer.
Record producer – is responsible for artistically shaping the creative vision when working with a band to make the best possible finished product. This role requires a profound understanding of how music works, how to develop songs, and how to engage with the target audience.
Professional musician – could be an artist in their own right, playing as a studio session musician, or writing and developing songs for other artists. This role requires lots of experience, and passion, and determination, talent and an ability to network will ensure success.
If you are thinking about studying at degree level following this course please visit the university websites or UCAS (University Central Admissions Service) www.ucas.com to check any entry requirements.
---
Do I need to bring/buy any equipment?
Stationery - you will be told about any specific items before you start the course
A memory stick/a small portable USB hard drive
You may be eligible for funding. Find out more on our student finance page
---
Are there any additional costs?
No tuition fee
We are waiving the Administration Fee for the academic year 2022/23
There is a annual workshop fee for this course (£20 - £60), payable before you start the course
You may be eligible for funding. Find out more on our student finance page
---
Disclaimer:
The College takes all reasonable steps to provide the educational services and courses as described above. Details are correct at the time of editing but may be subject to change without prior notice. Courses will not run if student numbers are insufficient. The College has the right to refuse individuals entry to courses in certain circumstances. Prospective students may be advised of more suitable alternatives, if appropriate. The entry requirements stated are those that are normally required to undertake the programme of study.